Since 2014, H&M Family Dentistry has been serving Aurora, CO, and the surrounding areas with comprehensive dentistry services ranging from general to surgical procedures. We understand that the oral health and cosmetic needs of our patients can change over time, and we pride ourselves in being a one-stop shop where you can receive the treatments you need and desire. Dr. Hua Gao and Dr. Xiaomei Sui have undergone extensive dentistry training and continue to update their techniques to help patients receive the most advanced treatment.
We look forward to serving your family's changing oral health needs and developing relationships with you that last a lifetime.
Highly Trained and Compassionate Dentists
Both Dr. Gao and Dr. Sui have been practicing dentistry for almost 20 years. Their training began in China, where they graduated from dental school and trained in their specialties. Dr. Gao completed a three-year oral surgery program while Dr. Sui attended a three-year program for endodontics. After moving to the United States, both doctors attended the University of Colorado Dental School and earned their DDS degrees. Both Dr. Gao and Dr. Sui have been featured in research publications and journals for their contributions to dentistry. On Valentine's Day of 2014, they opened H&M Family Dentistry together and have been serving patients with advanced, compassionate care ever since.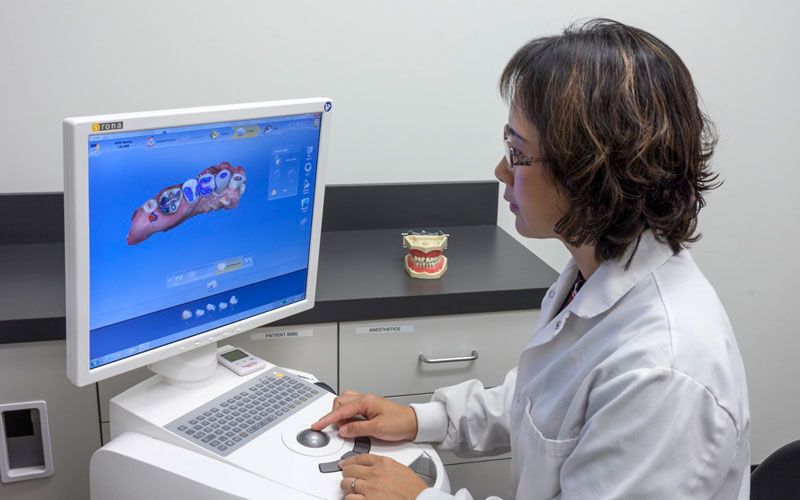 Dr. Xiaomei Sui uses dental imaging technology at H&M Family Dentistry
Advanced Technology
We use state-of-the-art technology to help make your treatment as efficient and effective as possible. We incorporate our advanced digital imaging and other technology in all applicable procedures.
3D Scanning: At H&M Family Dentistry, we use 3D scanning to reduce the need for traditional putty impressions. With 3D scanning technology, we are able to create more accurate models of your mouth.
CEREC® Restorations: We are able to provide same-day dental crowns using our in-office CEREC® machine. This machine uses digital images to carve restorations out of a single block of porcelain, eliminating the need for an outside lab while saving you time and money on your treatment.
Intraoral Cameras: Intraoral cameras provide high-resolution images of areas of the mouth that are difficult to see. These cameras allow our doctors to accurately diagnose your condition and provide treatment accordingly.
Laser Gum Disease Treatment: When performing scaling and root planing for the treatment of gum disease, we use advanced lasers to achieve precise, outstanding results. This treatment allows us to remove inflamed gum tissue using a less invasive method that helps reduce pain, swelling, and recovery time.
We Want You to Feel at Home
We understand that visiting a new dentist can be stressful. We try our best to become familiar with our patients and their families. To suit the varying needs of our diverse community, our doctors and staff speak many different languages and can help you feel at ease about communicating your needs. In addition to English, members of our staff speak:
Chinese (Mandarin)
Amharic
Spanish
Tigrinya
Vietnamese
Patients visit our office from all over the state because they feel comfortable discussing their oral health concerns and goals in a familiar language.
Contact H&M Family Dentistry
We look forward to serving your family's changing oral health needs and developing relationships that last a lifetime. To schedule an appointment, call our office at (303) 353-9611 or contact us online today.