What Are the Benefits of an Implant-supported Bridge?
Individuals who are missing two or more consecutive teeth can regain natural tooth function using an implant-supported bridge. While a traditional dental bridge is held in place through the use of metal clasps, dental crowns, or another form of attachment to surrounding natural teeth, an implant-retained bridge attaches to the jawbone through the use of dental implants and dental crowns. If you are looking for a dental practice in Aurora, Centennial, or Cherry Creek, CO, that delivers multiple treatments in one location, we welcome you to join our dental family at H&M Family Dentistry. We pride ourselves on being a one-stop-shop office for your dental care needs, including implant-supported bridges.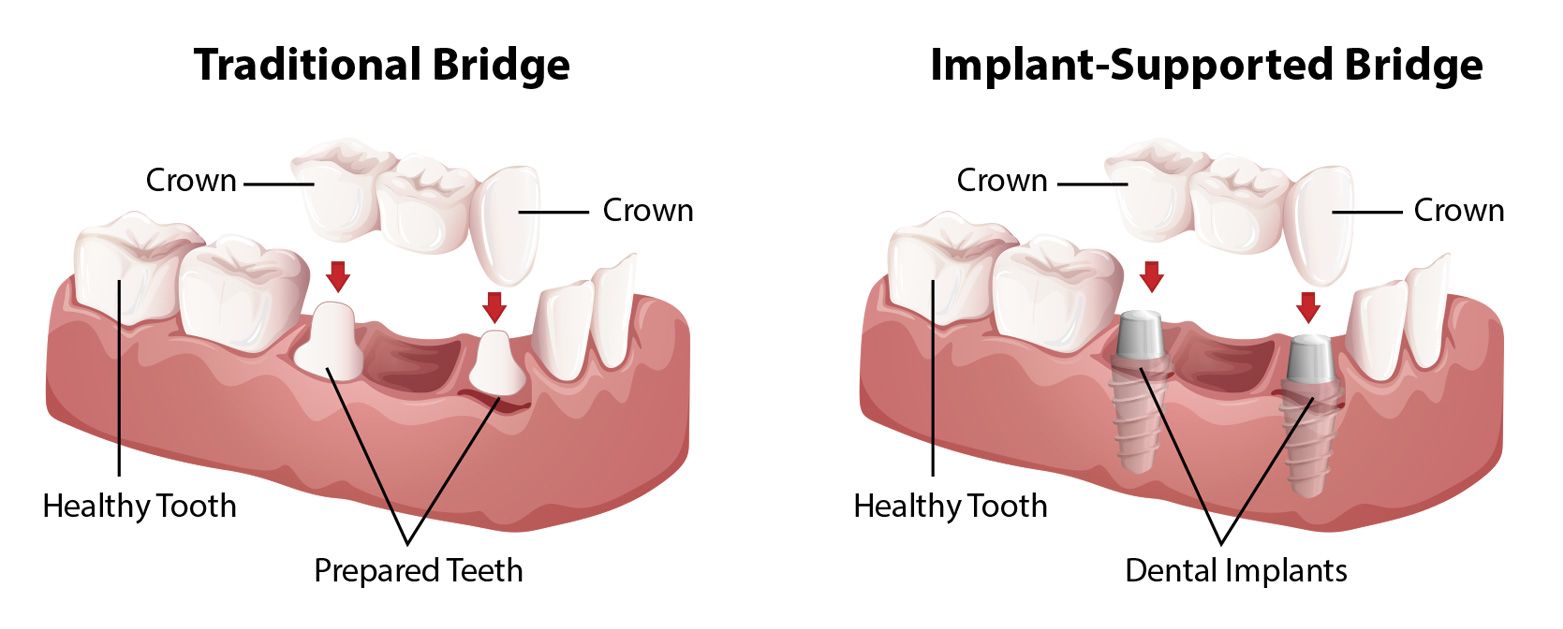 Benefits of Implant-supported Bridges
Many of our patients report that implant-retained bridges feel just like their natural teeth. Traditional bridges are an effective solution to tooth loss, but any prosthetic that relies on neighboring natural teeth for support will have limitations. Implant-retained bridges are anchored directly to the jawbone, which offers many benefits. Missing teeth are a leading cause of jawbone recession. If you are planning to have a tooth extracted, our doctors can place bone grafting material in the extraction site to ensure that you remain a candidate for dental implant placement.
Patients who undergo dental implant placement to support a dental bridge can benefit from:
A restored smile
Prevention of jawbone atrophy
Prevention of teeth shifting
Natural-looking results
Restored chewing function
Boosted self-confidence
Improved bite balance
Am I a Candidate?
If you are missing two or more consecutive teeth, you may be a good candidate for an implant-supported bridge. Individuals who are missing an entire arch of teeth can benefit from implant-supported dentures.
Patients who undergo dental implant placement to support a dental bridge can benefit from a restored smile, restored chewing function, improved bite balance, and more.
Patients who seek the life-changing benefits of an implant-supported bridge will need to undergo a straightforward oral surgery procedure for placement of the implant post. As with any surgery, candidates should be in good oral and overall health and free of any conditions that could complicate surgery and recovery.
To receive a successful dental implant, the titanium post must be embedded in healthy bone tissue. During your examination, our doctors will determine if you have adequate jawbone density for the implant post. If you have insufficient jawbone mass, we can schedule a bone graft procedure. This treatment is valuable, but will add a few months to your overall treatment timeline.
How Are the Prosthetics Placed?
There are two basic steps to this restorative treatment: dental implant placement and the crafting of your custom bridge.
Dental Implant Placement
Before the dental implant procedure begins, the dentist will administer a local anesthetic to numb the treatment area. We also offer sedation dentistry to help create a more relaxing treatment experience for patients. After a small incision in your gum tissue is made, the titanium implant post is inserted into the jaw. Then, the incision is sutured closed. A temporary bridge will be placed and you will be released to return home to recover. Over the next four to six months, the dental implant will fuse with the jawbone through a natural process called osseointegration.
Custom Dental Bridge Placement
Once your implant posts have healed, we will schedule a second visit to our Aurora dental office to place abutments (small metal attachments) to your implant posts. During abutment placement, an impression of your mouth will be made. One to two weeks later, you will visit our office for the placement of your custom dental bridge.
Schedule Your Implant-supported Bridge Placement
An implant-retained dental bridge looks, feels, and functions like natural teeth. If you are looking for a long-term solution to tooth loss, the team of doctors and staff at H&M Family Dentistry welcomes you to contact our office online or call (303) 353-9611.