Restore Your Smile's Health, Appearance, and Function with Dental Implants
---
Missing teeth not only compromise the appearance of your smile, but also have a negative impact on your function and overall oral health. That is why it is important to replace missing teeth. Currently, dental implants are considered the most reliable and successful teeth replacement option available. Implants provide far greater security than traditional dentures and bridges, helping patients feel more comfortable and more confident following tooth loss. H&M Family Dentistry is a leading provider of dental implants for patients in Aurora, CO, and can perform all treatment under one roof for your convenience.
Dental Implants
The leading edge in the replacement of missing teeth is still dental implants. Dr. Gao is one of the best experts to visit when you need an implant to restore your missing teeth or beautiful smile. When it comes to technology, he and Dr. Sui always adopt the latest and greatest to give patients the best experience possible. The 3D CT Galileos machine enables Dr. Gao to create a full evaluation which allows for streamlined and efficient treatment. This advanced technology helps the doctors greatly to minimize redundant treatment, minimize time to complete procedures and to maximize the chances of success when completing Implant dentistry.
Using a state-of-the-art CEREC CAD-CAM machine, Dr. Gao can create crowns to cover the implant that very same day if the situation allows.
For every implant he places, Dr. Gao uses some of the finest implant materials to safely and strategically place implants to which new teeth will be attached. Using a state-of-the-art CEREC CAD-CAM machine, Dr. Gao can create crowns to cover the implant that very same day if the situation allows. The new crowns he creates fit his patients' bites perfectly and mimics the strength and color of their original teeth.
What is a dental implant?
A dental implant is a metal post that's implanted into the jawbone and is used to support a single artificial tooth or crown or to support a denture featuring multiple teeth. Because they're anchored in the bone, dental implants are very secure and provide a comfortable, natural fit, making them a popular alternative to conventional dentures and bridges.
What happens during the dental implant procedure?
Dental implant procedures typically take three visits. At the first appointment, the implant post will be implanted into the jawbone where it will remain undisturbed for several months to enable the bone tissue to fuse with the implant post (a process called osseointegration). If the jawbone is too thin or fragile to support the implant, a bone graft procedure can be performed to supplement the existing bone. At the second appointment, a second piece called an abutment will be attached to the post and an impression will be made and sent to the lab where the crown will be created. During the third visit, the crown will be attached to the post and adjusted and buffed for a perfect fit.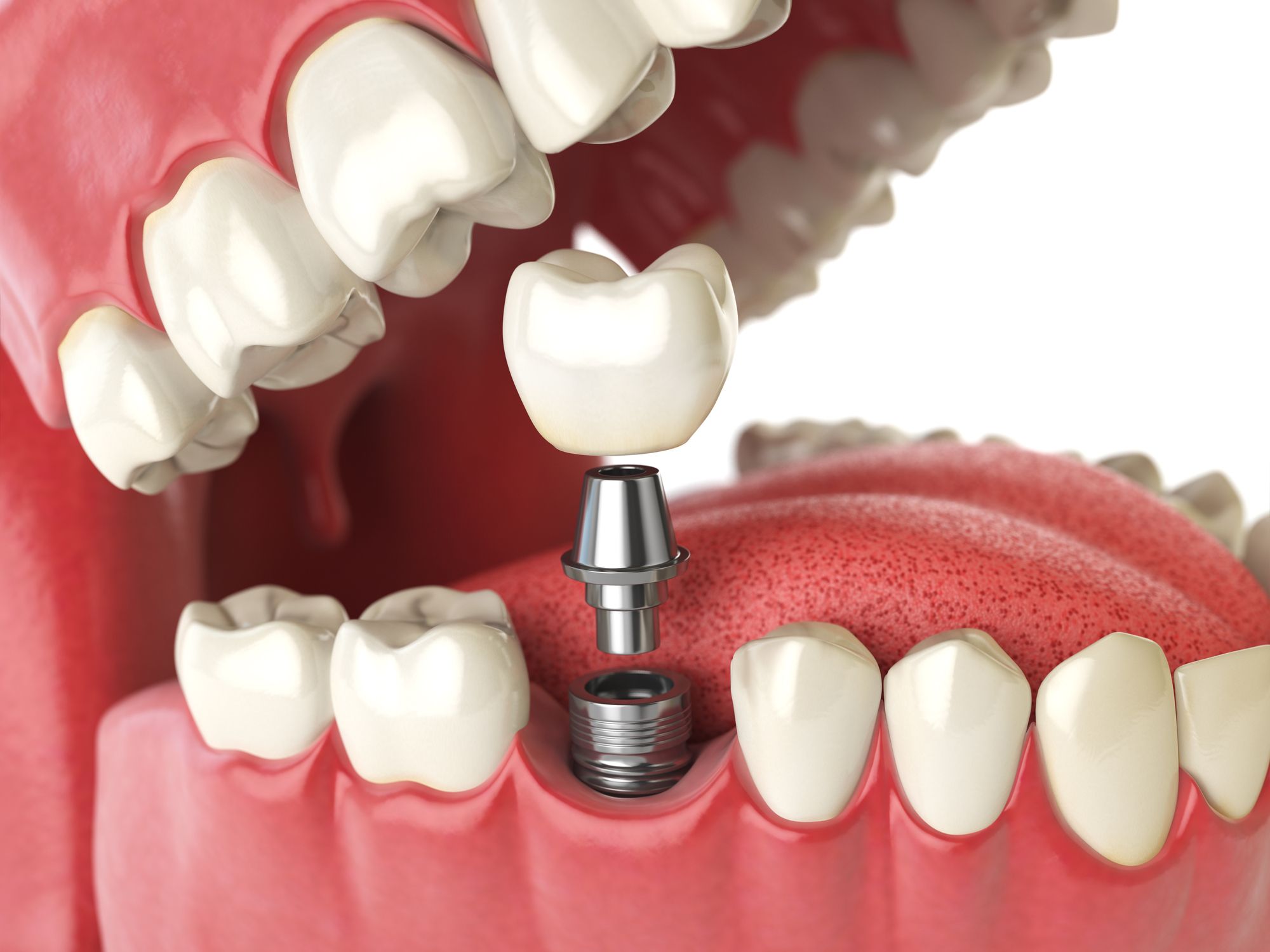 What is an implant-supported denture?
An implant-supported denture is just what its name implies - a denture featuring multiple teeth that are attached to dental implants. Implant-supported dentures are less costly than the replacement of multiple teeth with individual implants, and they're far more secure than traditional dentures. The post attachments prevent the denture from slipping and causing sore spots.
How should I care for my implants?
Implants can be cared for with regular brushing and flossing and routine trips to the dentist's office for cleanings and checkups. Even though the artificial tooth can't decay, like any crown, it can become loose or damaged, and the gums around the implant can become infected or diseases just like the gums around a natural tooth. Seeing the dentist regularly helps ensure the gums remain healthy and the implants remain secure and stable.
How long will a dental implant last?
Dental implants are very durable, and with proper care, they can last as long as a natural tooth.
Benefits of Dental Implants
Implants offer a number of advantages over alternative teeth replacement options, including:
Improved oral health: Bone deterioration is a common byproduct of tooth loss. Because dental implants mimic natural teeth roots, the jawbone still receives regenerative signals through stimulation. As a result, the risk of bone atrophy is significantly reduced.
Enhanced comfort: Because implants anchor restorations in the same way that natural tooth roots do, patients often find the results of treatment more comfortable than traditional restorations.
Optimal aesthetics: Today's advanced materials can mimic natural tooth enamel. Dental implants can consequently offer an incredibly lifelike look.
Durability: With proper care and maintenance, dental implants can last much longer than their traditional alternatives. In many cases, they last a lifetime.
Improved self-esteem: Filling in gaps and spaces left behind by missing teeth can help you feel more confident in sharing your smile.
Exploring Dental Implant Candidacy
In order to qualify for dental implants, you must have adequate bone to house the posts. However, even if you lack sufficient jawbone tissue to support implants, a bone grafting procedure may increase your eligibility for this treatment.
Additionally, candidates for dental implants must also be in good oral and overall health. In general, if you are healthy enough to undergo an extraction, you are likely eligible for implant surgery. Patients with extensive decay or periodontal disease will need to undergo restorative procedures first before pursuing dental implants.
Alternatives to Dental Implants
For patients who do not qualify for implants, options like dental bridges and dentures are still reliable replacements for missing teeth.
Dentures
The oldest treatment for teeth replacement, dentures are comprised of a strong base and prosthetic teeth that rest atop the gums for support. Full dentures can replace an entire arch of missing teeth, while partial dentures are recommended for those who still have some healthy teeth remaining.
Although dentures are an excellent way to fill in gaps and restore some function, they do not prevent future bone loss. Therefore, patients who choose this option usually need to replace their appliances every seven to 10 years, due to the gradual changes in the underlying jawbone structure.
Dental Bridges
A dental bridge can replace one to three missing teeth in a row. This type of restoration uses dental crowns to anchor artificial teeth across a gap in your smile.
In order to place the bridge, the adjacent teeth must be altered to serve as anchors. Therefore, it is necessary to remove small amounts of dental enamel. As a result, some natural tooth structure is compromised. On average, dental bridges will need to be replaced every 15 to 20 years.
Learn More about Dental Implants
If you are missing teeth, we can help you determine the best replacement option. To learn more about implants, or to schedule a consultation at our practice, contact us online or call our office at (303) 353-9611.
"My experience was great from beginning to end. Every staff person is super friendly and good at what they do. I haven't had any experience that was overly painful. The hygienists there are able to make you comfortable and relaxed the entire time."

Nakita B.