Restore Your Smile's Health, Appearance, and Function with Dental Implants
Missing teeth not only compromise the appearance of your smile, but also have a negative impact on dental function and overall oral health. That is why it is important to replace missing teeth. Currently, dental implants are considered the most reliable and successful teeth replacement option available. Implants provide far greater security than traditional dentures and bridges, helping patients feel more comfortable and confident following tooth loss. H&M Family Dentistry is a leading provider of dental implants for patients in Aurora, CO, and can perform all treatments under one roof for your convenience.
Understanding Dental Implants
A dental implant is a metal post that is implanted into the jawbone. It can support a single artificial tooth or implant-supported crown, bridge, or denture for multiple teeth. Since they are anchored in the bone, dental implants are very secure and provide a comfortable, natural fit, making them a popular alternative to conventional dentures and bridges.
Dr. Gao and Dr. Sui use the latest technology to provide patients with the best experience possible. The 3D CT Galileos machine enables them to create a full evaluation which allows for streamlined and efficient treatment. This advanced technology helps minimize redundant treatment and procedures times, and also helps maximize the chances for dental implant success.
A dental implant is very durable. With proper care, it can last as long as a natural tooth.
Dr. Gao and Dr. Sui use the finest implant materials to safely and strategically place implants to which new teeth will be attached. Using a state-of-the-art CEREC® CAD-CAM machine, they can create dental crowns to cover the implant that very same day if the situation allows. These fit patients' bites comfortably and mimic the strength and color of their original teeth.
What Happens before the Dental Implant Procedure?
Before placing a dental implant, Dr. Gao or Dr. Sui will complete a thorough examination to ensure you are healthy enough to undergo dental implant surgery. Candidates for dental implants must be in good oral and overall health. In general, if you are healthy enough to undergo an extraction, you are likely eligible for implant surgery.
If any existing decay or gum disease is present, we will complete necessary restorative procedures before beginning implant treatment. To be successful long-term, the dental implant must be embedded in strong, healthy bone tissue. Therefore, during the examination, we will also make sure that your jawbone has enough strength and density for the implant post.
If bone loss has affected the density of the jaw, a bone graft may be needed. During this procedure, bone grafting material is added to the jaw to increase volume and strength. A healing period of a few months allows the grafted material to integrate with the bone. Once healed, and the density is restored, we can begin dental implant treatment.
What Happens during the Dental Implant Procedure?
Dental implant procedures occur in six steps and usually require three visits to our practice. The general steps for most dental implant procedures include:
1. Initial examination: This is the first step to ensure your jaw and mouth are in good health to receive the restorative treatment.
2. Implant placement surgery: Before the procedure begins, the dentist administers local anesthesia to numb the area of the jaw and gums. Sedation options are available to help create a more relaxing treatment experience. The dentist will then make a small incision in the gum and prepare the jawbone for the implant. The titanium implant post is inserted into the jaw and the incision is closed. A temporary crown or bridge could be placed, depending on the implant location.
3. Healing and osseointegration period: After surgery, a four to six month healing period begins. This allows the implant to fuse with the jawbone in a unique biological process called osseointegration. Bone tissues will begin developing around the implant, strengthening its position in the bone and creating a permanent hold similar to that of a natural tooth root.
4. Abutment placement: Once healing is complete, Dr. Gao or Dr. Sui will place an abutment on the end of the implant, onto which a restoration such as a dental crown or denture can be attached.
5. Healing period: After abutment placement, you will require one to two weeks of healing time. During this time, your custom restoration will be crafted in a dental lab, from impressions taken during the abutment placement procedure.
6. Restoration placement: Finally, your custom restoration is securely placed on the end of the abutment. Whether you receive a dental crown, dental bridge, or a denture, your new restoration has the long-lasting stability and strength similar to that of your natural teeth.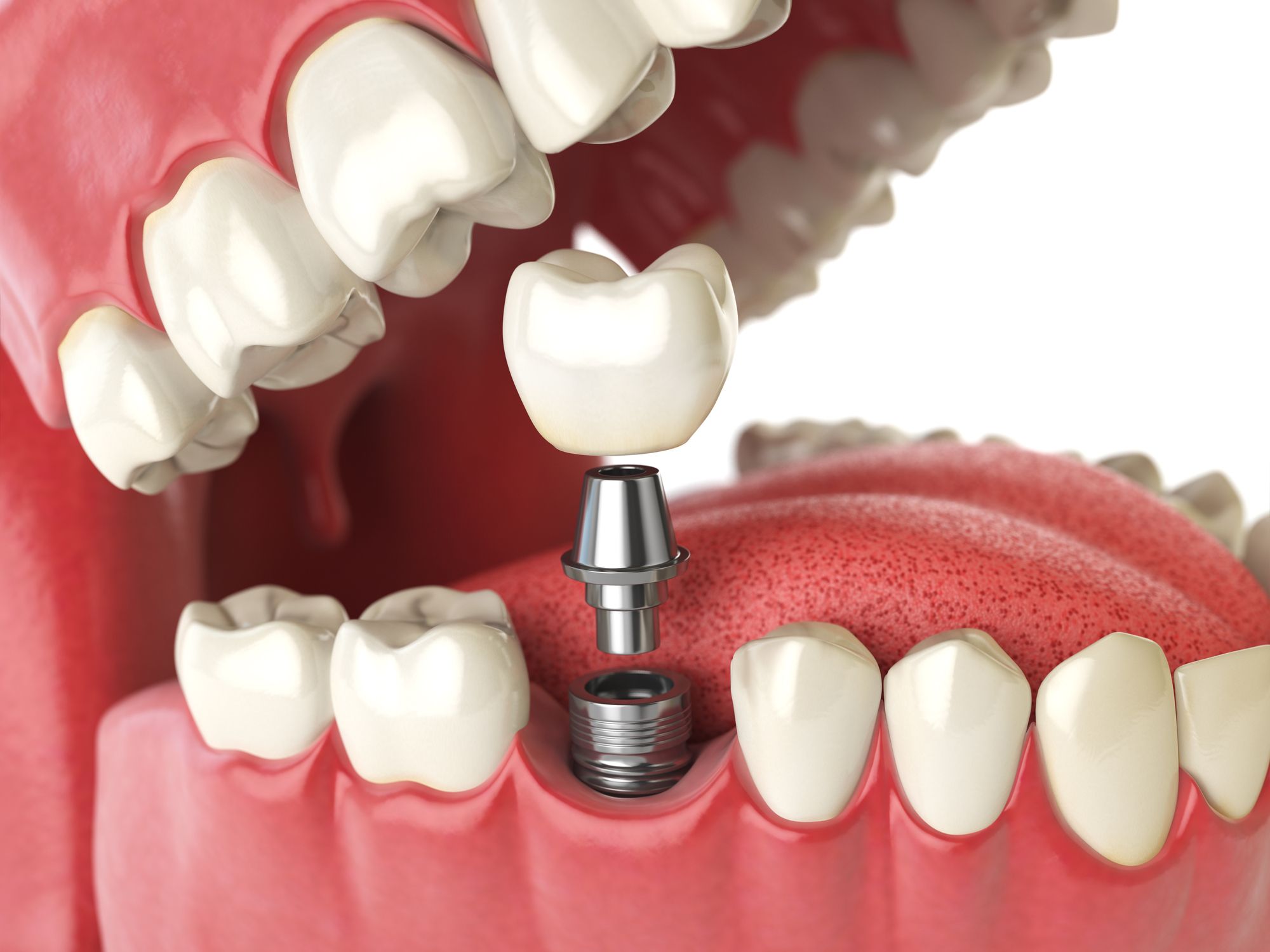 Recovery after Dental Implant Surgery
No specific healing time is normal when it comes to dental implants—every mouth is unique. While some patients can have an implant placed immediately, others require bone grafts, multiple implants, or additional healing time due to deteriorated jaw bone tissues or other medical conditions. Each patient at our practice is treated as an individual according to his or her specific needs.
Many patients resume normal daily activities just two to three days after implant placement surgery. While it is important to give your body ample time to rest and recover, it is typically all right to increase activity levels once you are feeling better. After surgery, patients should use care around the surgical site, since your gums and mouth may be tender for the first few days. For the first week, patients should not vigorously rinse with mouthwash or touch the surgical site.
Additional tips for a healthy recovery include:
On the day of surgery, switch out new pieces of gauze every half hour until bleeding stops. It is normal to see blood in the mouth for up to two days after surgery, but if heavy bleeding occurs, contact our office immediately.
Rest and relax. Do not lift, bend over, or take part in fitness or athletic activities for at least 48 to 72 hours.
Brush and floss as usual, but keep bristles and floss away from the surgical site until the gums are fully healed.
Eat a soft diet until the mouth feels comfortable enough to chew. Avoid very cold or hot foods.
Take pain medication as prescribed by your dentist, or over-the-counter options, for sore jaw muscles.
Do not smoke, since smoking can slow or prevent proper healing and osseointegration.
How Should I Care for My Implants?
Dental implants can be cared for with regular brushing and flossing and routine trips to our office for cleanings and checkups. Even though the artificial tooth cannot decay, it can become loose or damaged, and the gums around the implant can become infected or diseased just like the gums around a natural tooth. Seeing the dentist regularly helps ensure the gums remain healthy and the implant remains secure and stable.
Alternatives to Dental Implants
For patients who do not qualify for dental implants, options like dental bridges and dentures are reliable replacements for missing teeth.
Dentures
The oldest treatment for teeth replacement, traditional dentures are comprised of a strong base and prosthetic teeth that rest atop the gums for support. Full dentures can replace an entire arch of missing teeth, while partial dentures are recommended for patients who have some healthy teeth remaining. Although dentures are an excellent way to fill in gaps and restore function, they do not prevent future bone loss. Therefore, patients who choose this option usually need to replace their dentures every seven to 10 years, due to the gradual changes in the underlying jawbone structure.
Dental Bridges
A dental bridge can replace one to three missing teeth in a row. This type of restoration uses dental crowns to anchor artificial teeth across a gap in your smile. In order to place the bridge, the adjacent teeth must be altered to serve as anchors. Therefore, it is necessary to remove small amounts of dental enamel. As a result, some natural tooth structure is compromised. Dental bridges will generally need to be replaced every 15 to 20 years.
Benefits of Dental Implants
Implants offer a number of advantages over alternative teeth replacement options, including:
Improved oral health: Bone deterioration is a common side effect of tooth loss. Since dental implants mimic natural teeth roots, the jawbone still receives regenerative signals through stimulation. As a result, the risk of bone atrophy is significantly reduced.
Enhanced comfort: Since implants anchor restorations in the same way that natural tooth roots do, patients often find the results of treatment more comfortable than traditional restorations.
Optimal aesthetics: Today's advanced materials closely resemble natural tooth enamel. Dental implants can consequently offer an incredibly lifelike look.
Durability: A dental implant is very durable, and with proper care, can last as long as a natural tooth.
Improved self-esteem: Filling in gaps and spaces left behind by missing teeth can help you feel more confident in sharing your smile.
Contact H&M Family Dentistry
If you are trying to decide on a tooth replacement option, we can help you determine the best treatment. To learn more about dental implants, the treatment cost, or to schedule a consultation at our practice, contact us online or call H&M Family Dentistry at (303) 353-9611.